Overview of Security Deposit Laws in Colorado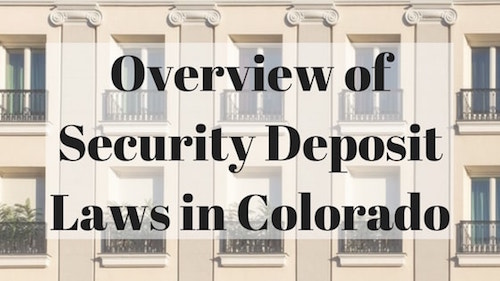 Ideally, security deposits shouldn't exist. Tenants should move into a rental –and always abide by the terms of the lease agreement. Sadly, however, things do not always work out this way. Mistakes are made and things happen. For example, the tenant may cause excessive property damage. Other times, for whatever reason, the tenant may simply pack up and leave.
This is why security deposits come in handy. Security deposits offer you a sense of security and breathing room. Think of a security deposit as the house's insurance policy. You take the security deposit when the tenant is moving in, and when they vacate, you use the funds to compensate for excessive damage or unpaid rent, if present.
Regardless, a security deposit is not cut and dry. Each state has laws that define how they should be handled.
Colorado protects both its tenants and landlords with its statewide landlord-tenant law. A portion of this law is the Colorado security deposit rules. Abiding by these rules isn't optional. It's a requirement.
DISCLAIMER: This information provided by Evolve Real Estate & Property Management is for general information only. While this is a helpful overview, we make no representation or warranty of any kind regarding this information. If you're a landlord that needs legal advice, get in touch with a licensed attorney, and do not contact us for legal advice.
Overview of the Colorado Security Deposit Laws:
Nonrefundable Deposits
According to security deposit laws in Colorado, a security deposit is technically considered a tenant's possession. So, no, Colorado landlords cannot charge a nonrefundable security deposit.
You can only keep the tenant's deposit as "security".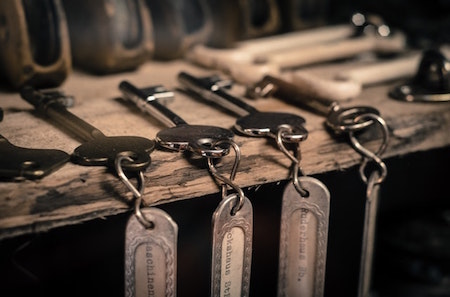 Storing a Tenant's Security Deposit in Colorado
In the state of Colorado, there is no specific requirement that dictates how landlords should store a tenant's deposit.
There is no requirement that tells landlords to put the security deposit in an interest-earning account or one that dictates the kind of financial institution Colorado landlords should store it in.
Purpose of the Security Deposit
Under Colorado security deposit laws, a landlord may be able to keep all or a portion of the renter's security deposit for any of the following reasons:
To cover the tenant's unpaid cleaning, repair and utility bills
To cover excessive property damage
In case of abandonment of the premises
To cover unpaid rent
Any other breach of contract that causes financial damage to the Colorado property
Written Notice Requirement
In some states, landlords are required to provide a tenant with a written notice after receipt of their deposit. For Colorado landlords, however, this is not the case.
A landlord doesn't have to provide their tenant with any written notice as regards to receiving their security deposit.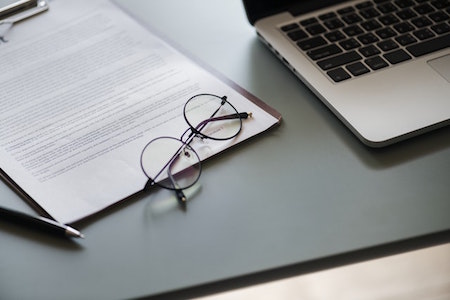 Colorado's Security Deposit Limit
Many states limit the amount of security deposit a landlord can ask from a tenant. In the state of Colorado, however, there is no limit. A landlord is free to ask for any reasonable amount from a tenant.
As a Colorado landlord, setting the right security deposit amount is key. The right amount will attract the right tenants and ensure a landlord is properly cushioned against lease violations.
Walk-Through Inspection
Oftentimes, landlords and tenants have conflicts about security deposit deductions. Generally, the reason for security deposit deductions is excessive damage to the rented premises.
The tenant may think that the Colorado rental was in good condition when they left, but the landlord may hold a different view.
To help avoid any confusion, a walk-through inspection is sometimes necessary. During the walk-through inspection, the landlord will compare the property's condition then to how it was initially.
If there is excessive damage to the rental premises, the landlord will have the right to deduct the appropriate amounts. If there is not, the landlord will have to refund the entire amount to the tenant.
Colorado security deposit laws do not require a walk-through inspection.
The following table shows what can qualify as normal wear and tear and what cannot.
| | |
| --- | --- |
| Excessive Tenant Damage: Resident's Responsibility | Normal Wear and tear: Landlord's Responsibility |
| Broken refrigerator shelf or dented front panels | Worn gaskets on refrigerator doors |
| A dryer that won't turn on because it's been overloaded or the lint trap was never cleaned out | Broken dryer because the thermostat has given out |
| Mirrors caked with lipstick and makeup | Bathroom mirror beginning to "de-silver" (black spots) |
| Missing or broken mini-blinds or curtain | Moderately dirty mini-blinds or curtains |
| Clogged sinks or drains due to any stoppage | Partially clogged sinks or drains caused by aging pipes |
| Missing or bent shower rod or plumbing fixtures | Rusty shower rod or worn vanish on plumbing fixtures |
| Chipped and broken enamel in bathtubs and sinks | Worn or scratched enamel in old bathtubs, sinks, or toilets |
| Missing or cracked bathroom tiles | Loose grout and bathroom tiles |
| Shower mold due to lack of regular cleanings | Shower mold due to lack of proper ventilation |
| Broken windows from an action of the tenant or guests | Cracked window pane from a faulty foundation or building settling |
| Sticky cabinets and interiors | Warped cabinet doors that won't close |
| Water stains on wood floors and windowsills caused by windows being left open during rainstorms | Dark patches on hardwood floors that have lost their finish over many years |
| Chipped or gouged wood floors, or excessive scrapes from pet nails | Scuffed varnish on wood floors from regular use |
Returning a Tenant's Security Deposit in Colorado
Once a tenant vacates the premises, Colorado landlord-tenant laws require a landlord to return the security deposit to the tenant within thirty days.
If, as the landlord, you need extra time, you can prolong this period by an additional thirty days. You may need this extra time in the event that there is a misunderstanding about deductions.
According to Colorado's renters' rights concerning security deposits, any hazardous conditions involving gas at your rental premises may also require you to return the renter's security deposit. In such a case, you will have 72 hours to act on the problem. If you don't, the tenant will be free to break the Colorado lease or rental agreement.
In this case, a landlord will have 72 hours to return the security deposit to the tenant once he or she moves out.
In the event the tenant has caused excessive damage to the unit, you will need to do a couple of things. First, you'll need to make an itemized list of the deductions. Next, you'll need to list the reason for those deductions. Last, you will need to include the itemized statement alongside the portion of the security deposit you are returning to the tenant.
The next step is to send them (the security deposit and an itemized statement) to the tenant's last known address.
Failure to include the statement alongside the portion of the security deposit you are returning may lead to penalties.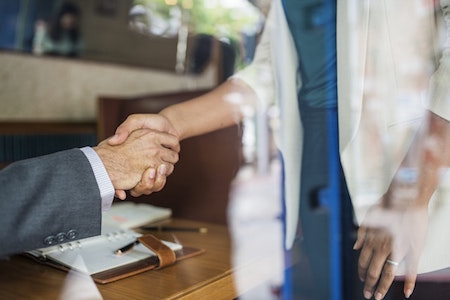 Change of Property Ownership
A landlord must do two things in the event they sell their property. One, return all or portion of the security deposit back to the tenant. Alternatively, transfer all or a portion of the deposit to the new owner. If you decide to transfer it to the new owner, you must provide the tenant with a written notice. This is usually done with a Notice of Change of Ownership or Management.
Once you've completed the transfer and send a notice to the tenant, the new owner will then become liable for the deposit.
Strict compliance with Colorado's security deposit laws is crucial. If you don't, you risk significant financial repercussions. For example, wrongfully withholding the tenant's security deposit can make you lose up to three times the deposit amount. In addition, the tenant may be awarded court costs and attorney fees.